The biggest hits in the world performed for special events worldwide.
A group of international musicians fluent in French, English, Italian, Spanish and Portuguese, The Brotherockers transform your drinks and dinners into unforgettable memories.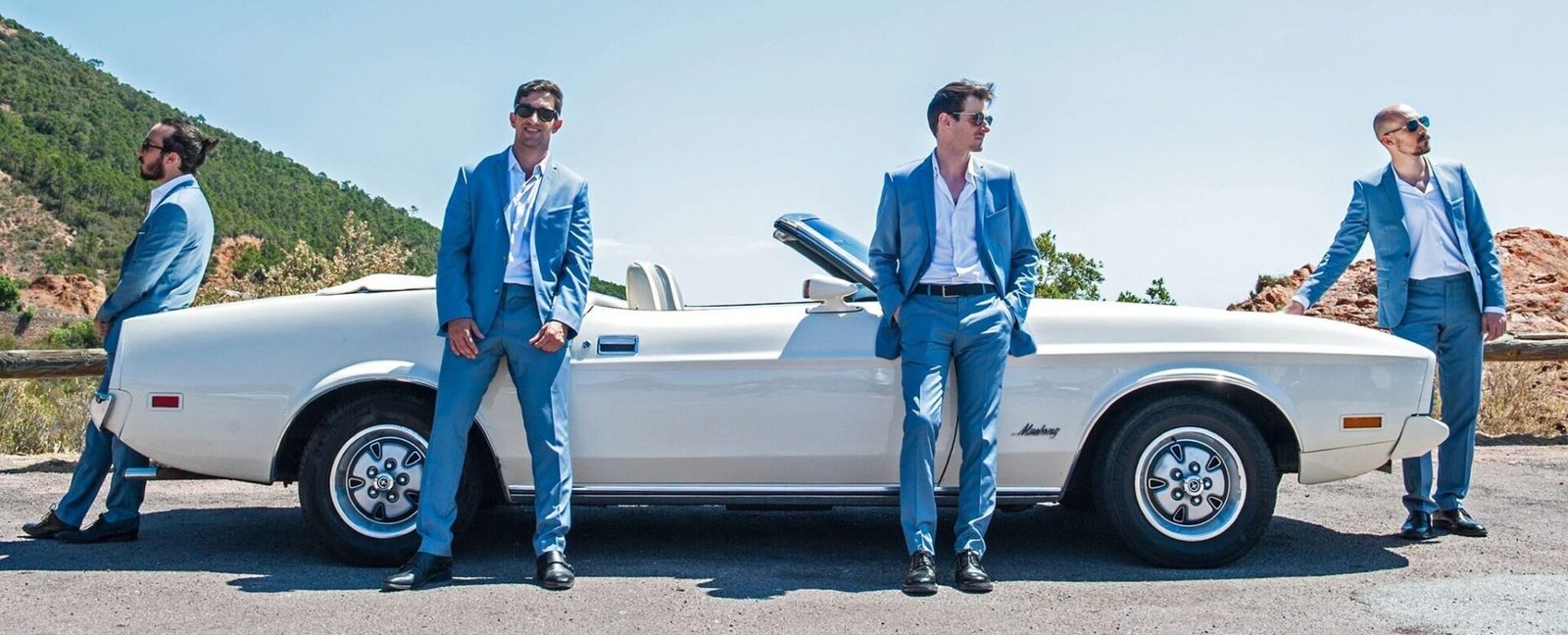 A bespoke and unique concept
No mic, no barriers!
The group is mobile and will mingle with your guests, offering them a brand new interactive experience that will leave a lasting impression.
From corporate events and weddings to other private events, The Brotherockers create a fun and dynamic atmosphere that brings the guests together.
No more drinks receptions and dinners that seem to never end!
Their contagious irresistible energy will get the guests singing, dancing and having the time of their lives.
Ever conscious of the appropriate act, the band is adaptable, knowing when to retreat and provide a more relaxing mood when required.
You will then appreciate their wide repertoire and exquisite vocal harmonies.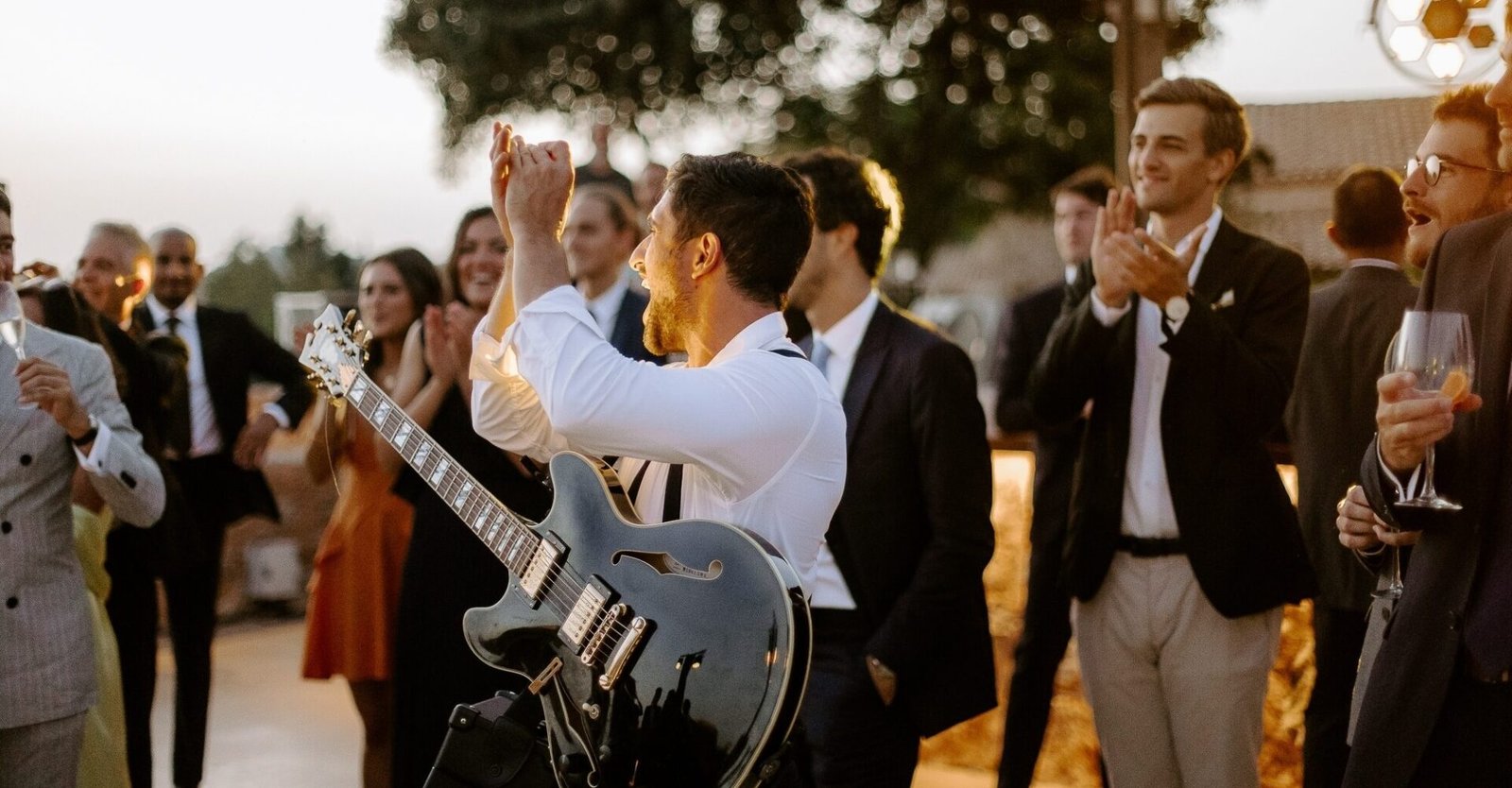 Caroline - 05/02/2023
Hi Pierre!
Thank you so much, we had the best time and you guys really made it so special!
We appreciate you guys so much and you all have an open invitation to come visit Texas or DC anytime and you have a place to stay!!
Malin - 10/09/2022
We got the Brotherockers for our wedding party brunch and they made our day !
Amazing music, good vibe, it was impossible not do dance and all our guest were amazed.
Catrin & Will – 13/08/2022
Hi Pierre,
A very belated thank you for playing at our wedding at Lartigolle !
You were one of our highlights from the whole weekend and all of our guests were raving about you afterwards.
The team at Lartigolle said that it was only the 2nd time in the whole time they have been running weddings that people had been up in the courtyard dancing during dinner. You
really got the party going, especially in the cave …despite the heat!
Hopefull we get to hear you guys play again some time!
Thanks so much !
Cat & Will
Merel - 21/07/2021
You guys were everything !
Thank you so much.
Not one persone could stay seated ! Dance! Dance! Dance!
Alexandra - 17/09/2022
Thank you sooo much fοr everything!
We were very excited with you last sets, it added so much to the mood and the guests experience!
Federica & Chris – 11/09/2021
Hi Pierre,
Federica and I wanted to say MERCI once again for your absolutely amazing contribution to the party on Saturday – our guests loved your performance so much!
Please send our warmest regards to the rest of the Brotherockers!
Many thanks and all the best,
Fede & Chris
Camilla - 24/07/2022
Dear Pierre, thanks for the amazing job yesterday !
The wedding planner and the guests were amazed by you !
Anne & Corentin - 10/06/2022
Bonjour Pierre
Merci d'avoir mis le feu à notre mariage, vous êtes monstrueux, vous avez fait l'unanimité, aucun de nos invités connaissait ce concept de groupe de musique et ils ont tous plus qu'adoré !
On a fait que nous dire que vous étiez parfaits et que c'était un truc de fou !!! On n'aurait pas pu rêver mieux !
L'ambiance a été présente dès le cocktail grâce à vous et je ne parle même pas de l'ambiance que vous avez mis dans la salle !
Merci encore 🥰
Stéphane – 15/10/2022
Un anniversaire de rêve : j'ai eu la chance d'organiser mon anniversaire avec Pierre et le groupe « The Brotherockers».
Ils ont illuminé l'après-midi, en passant de table en table et en jouant des morceaux à la fois modernes, ou bien qui ont bercé notre jeunesse!
Encore merci pour l'ambiance et la prestation artistique, ma famille et mes amis m'en parlent encore !
Mélanie & Gregory – 14/07/2022
Bonjour Pierre
Le groupe de musique qui fait toute la différence lors de votre mariage !
Ils ont su mettre une ambiance de folie, nos invités ont été stupéfaits par leur énergie !
Encore bravo !
Al Mahdi – 12/06/2021
Tout le monde a énormément apprécié !
Un groupe professionnel, ponctuel et très réactif autant pendant l'organisation que durant la soirée.
Un registre large pouvant s'adapter aux différentes ambiances de la soirée.
Merci pour votre performance et l'ambiance de folie que vous avez créée !
Winnie Chen - 03/09/21
The Brotherockers were so awesome!!
They created such a magical atmosphere for our welcome party on the beach. They included the songs we asked for which were special to us, but more importantly they read the audience perfectly and responded to the energy so well by playing the perfect song for every moment of the evening.
Our party was initially spread out over the beach but they tied it all together! Everyone at our multicultural, multigenerational party loved them and are still raving about them a week later!
I highly recommend booking them if you want a fun, magical atmosphere for your party!"
Custom
Each event being unique, The Brotherockers propose a tailor-made performance adapted to your personal needs. An amplified option is also available upon request.
Immersion
The Brotherockers are highly interactive, welcoming the guests to take part in a unique musical experience.
International
Fluent in five different languages and singing in six, the band has a relevant repertoire for all audiences.
Reliable
The Brotherockers take their mission seriously: Punctuality, professionalism, attention to detail; nothing is left up to chance.
Savoir-Faire
The right song at the right time! The guys' expert management of the mood will bring your guests from the base to the summit – a night (or day) they'll never forget.
Passion
These gentlemen's love of the art manifests itself not only in the explosion of energy that you will witness live but also in the hours spent mastering their instruments.
A word from our founder, Pierre
Hello and welcome to our website!
A passionate singer and musician, I created the Brotherockers in 2015 and have since managed each and every performance the group has made with one single ambition: That every event in which we participate be a success and that our clients keep an unforgettable memory of our show.
Since 2015, I've helped hundreds of couples, individuals and companies in realising their project.
Why not yours?
The next step is easy, contact me and I'll be happy to help you plan your event and answer any questions.